Breanna Stutheit
Owner & Yoga Instructor
Breanna has been practicing yoga since high school. Breanna started yoga as a fitness competition with a girlfriend. The competition was – who can go to the most 6 a.m. classes. Breanna says "The idea entered my mind the first time I sat down on my mat and looked around the room and thought that maybe, just maybe, I could do this for the rest of my life". Five short years later Breanna has opened Breeze Yoga Ltd. In Breanna's words:
I fell in love with Yoga and only after a few years of practicing I decided I needed to learn more. That's when I began my first of many teacher trainings. I have my 200 hours from SID Yoga, 50 hours Yin (Bernie Clark), 55 hours Acro Yoga from Acro Muse, Unnata Aerial Yoga training level 1, Rainbow Kids Certification, and Baby Bliss Prenatal certified. I am working towards my 500 hours from SID Yoga, I strongly believe that yoga is a lifelong practice and is something that requires continuous learning. This is just the beginning!
Yoga has been a beautiful amazing journey. My practice has transitioned from a physical practice, to physical and emotion practice, to a physical emotional and spiritual practice. For me yoga is not about being connected to an ancient religion, but I have been able to connect and find a new depth in my Christian faith through my yoga practice. Yoga brings balance to my life, and allows me to attain a new perspective.
I hope that each of you is inspired when you attend our classes; I look forward to connecting with you and personally welcoming you into our community!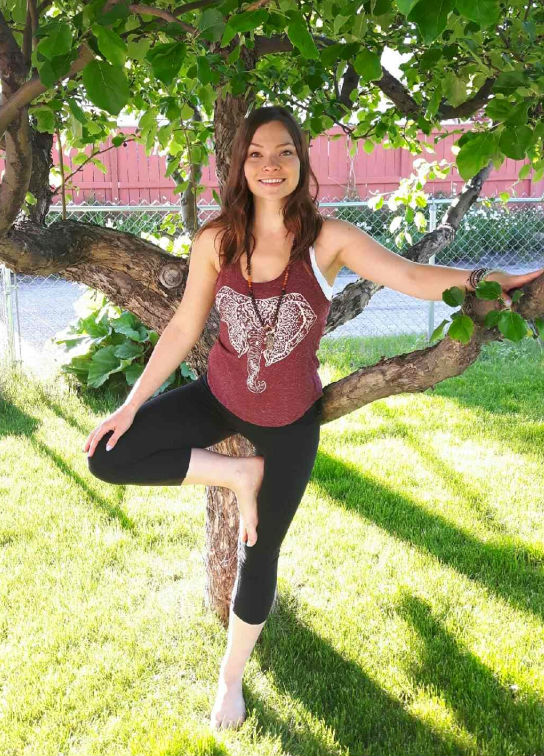 Shaela Brandt
Yoga Instructor
Hi there, my name is Shaela! Just like the rest of the warm staff at Breeze I am very passionate about yoga. My first studio practice was a life changing experience for me. I never knew such a welcoming community existed and from that first session I knew I wanted to surround myself with all the beautiful feelings, people and practices that came with yoga! From there I worked on a more spiritual practice for the next year or so before evolving my practice to include power and heat. Now you will find me at any class between a quiet morning yin to a hot and sweaty power flow!
As enthused as I am about my practice I am passionate about guiding clients of the studio through a strong and meditative practice that leaves you feeling accomplished. I have completed 200 yoga teacher training hours locally for Hot Traditional Hatha and another 32 hours (also locally) for Yin and look forward to many more yoga intensives!
I am so grateful to have the opportunity to teach yoga in our community and would be honoured to have you join me for a class at Breeze!
Janessa Marshall
Fitness Instructor
Growing up playing every sport under the sun, my passion for health and fitness really exploded in 2008, or I should say, that's when the people who inspired my passion showed up. I decided to join Kettlebell Training one weekend, and fell in love with all things related to the body and teaching others what they can do too!
When I decided to share this knowledge, the people some would call clients, who I like to call friends, fed my passion. Some of them became as inspired as me. They showed up, worked out, and kept coming back. This lifestyle was calling my name, and inspiring people to love themselves was what I needed to do. Everyday I strive to inspire people. I want people to look at me and say, because of you, I never gave up.
After some years of training, coaching, learning, and syphoning knowledge from any source I could find; Yoga stood up and said hello. Yoga showed me an appreciation for my own body, and that every day, when I told people they are beautiful, strong, and perfect; I needed to start telling myself that as well. I needed to challenge myself in a whole new way. I needed to say thank you to my body, spirit, and mind. Yoga gives me balance, it centers me, and my body loves me for it.
Some Fun Randomness about me!
My favourite food is Dill Pickles
I regularly laugh so hard that I can't breathe
and then I will try to tell you why I'm laughing
but I talk way to fast when I am excited
My curiosity is insatiable
I was very humbled by parenthood
I do what I love, and I do it obsessively!!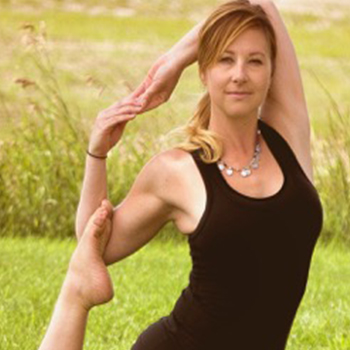 Kelli McKenzie
Yoga Instructor
As a wife and mother of three, yoga has taught me how to remain grounded during this roller coaster called life. My personal yoga practice varies from challenging goal driven mat time to a yin based, or restorative practice, to simply one long savasana.
Trained in Hatha Yoga with Anusara inspiration, I completed two hundred hours yoga teacher training with the incredible tribe of teachers at Gaiatri Yoga in Calgary, Alberta. Along this yogic journey I have become certified in pre/post natal yoga and completed a workshop with YogaKids.
Combining the physical postures of yoga with pranayama and meditation, my teaching focuses on alignment and connecting the mind with body and soul… our highest self.
Yoga is the human quest for remembering our true nature, our deepest selves.
Inspired by nature and guided from the heart, I strive to share a unique perspective on life. Our journey together will be to look at life through the lens of the chakra's (the architecture of our soul), Yoga and Ayurvedic philosophy. Together we will illuminate an empowering path of self-care, compassion and we will embrace the power of breath, mindfulness and love.
May you seek to know the vastness of your light.
Melissa Kay
Yoga Instructor
I am country Alberta girl at heart.  My love for yoga, nature, travelling and experiencing new things are a few aspects of my life that keep me motivated.   I don't know where I would be today if it wasn't for yoga… it changed me in so many positive ways!  Ever since I was 16, dabbling with a Patrica Welden beginner yoga tap my mother had purchased was my beginning step into the yoga world.  However in my grade 12 year my Aunty was diagnosed with stage 4 breast cancer, which was what initiated my yoga practice was a distraction.  So in 2007, yoga became my morning tradition of laying down my mat, lighting a single candle, listening to nature sounds with a haunting flute and learning about poses on yogajournal.com.  By the time I graduated I had developed a daily routine.
Four years ago my yoga practice went from an at home routine to a class room atmosphere, beginning in Australia(This place truly taught me how to live).  Once I came home, I knew becoming a yoga instructor was in my future and 2 years ago I achieved my 100 hours of Level 1 YTT (BV Vinyasa Flow) with Kim McMullen.   I have already made plans to expand my YTT hours in January 2016.  Being a yoga teacher has taught me I am also an energy practitioner.  Having the experience of adjusting a power flow yoga class, I realized the influence of my energy.  To see how students find calmness in an intense pose, alignment or relaxation that melts away their tension is truly a gift.  Yoga will teach you acceptance, gratitude and balance, and one day it will follow you off you mat into the "real world".
About 3 years ago I realized my other passion: nutrition, which was developed from my love for yoga.  My goal in life is to make people feel good about themselves, and what better way to do that then with yoga and nutrition!  I know you can achieve anything if you put my mind to, because when your passionate about something, you just got to go for it!
Delaney Hansen
Yoga Instructor
Delaney fell in love with yoga while taking her Social Work at Red Deer College. Taking the time to connect with herself on a deeper level and learning how to listen to her body and her inner voice – without all the noise – were some of the powerful impacts of yoga. Delaney's passion to expand her yoga practice took her to Thailand for four months where she studied with Pyramid Yoga Center and became an Internationally Certified Chakra Yoga Instructor. She considers this move the absolute best decision she could have made: removing herself from the chaos of regular life, with no cell phones or other distractions. She shared time with 23 other students on an island on the side of a mountain, practicing yoga under a giant pyramid, chanting in an most amazing sounding dome. It was an unbelievably remarkable journey.
Since then, Delaney has been teaching Chakra Yoga, Prenatal Yoga & Couples Yoga in and around Red Deer. She currently teaches Chakra and Yin Yoga classes at YARD and Body Basics Gym, and she also teaches Prenatal Yoga for The City of Red Deer.
Yoga pleasantly opened the door to the many dimensions of holistic healing for Delaney. She has been a passionate and successful massage therapist since 2002, she obtained her Reiki Masters in 2010, Prenatal Yoga & Conscious Birthing Certification 2012, Yin Yoga Teacher Traing in 2015 and works with Living Nutrition as a Health Consultant. She is grateful to be a yoga practitioner/instructor, presented with the opportunity to share tools with lovely individuals who can grow through their practice, gently unfolding the petals of their chakras and beginning to take responsibility for their own true well-being.